Four Season

Travel Trailers

Benefits of Owning a true 4 Season Travel Trailer
The 4 season travel trailer design was inspired by years of camping using other campers and making every aspect better, higher quality, more efficient, and easier to maintain. Once you see what the Oliver designers and engineers have developed, you will soon see why we're the best-insulated travel trailer in the industry.

Our 4 season travel trailers are built with a double hull shell with an air gap and insulation between; this insulates similarly to a double-pane window.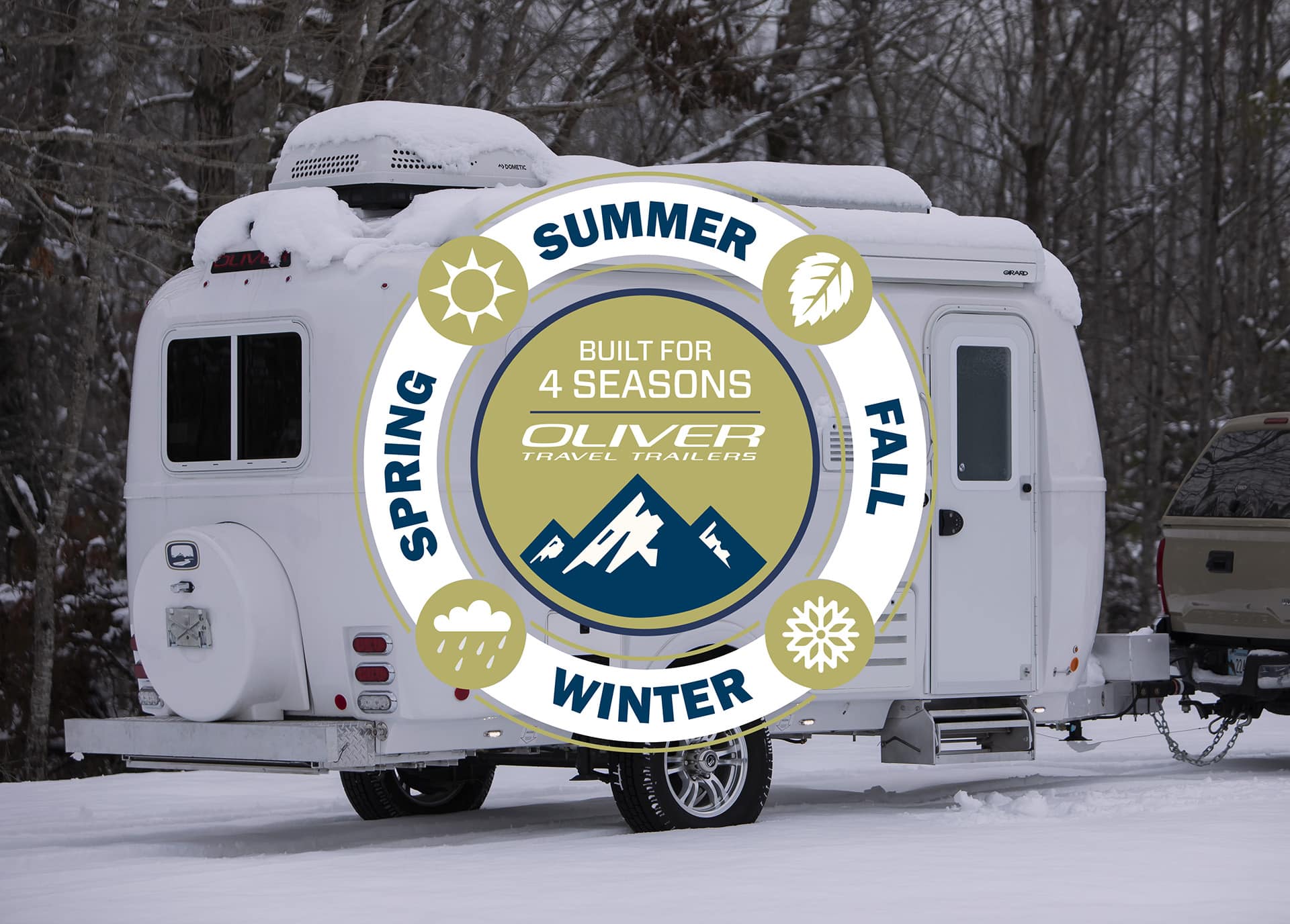 Year-Round Adventures in Comfort and Style!
Owning a 4 season travel trailer means you don't have to worry about the changing weather conditions and can camp comfortably in any season. Whether rain, snow, wind, or heat, Oliver Travel Trailers are designed to keep you safe and comfortable no matter what Mother Nature throws. Each Oliver 4-season camper is designed to withstand extreme temperatures using our unique double-hull fiberglass design.

Enjoy the peace of mind that comes with knowing your journey will be comfortable no matter what time of year.

Unleash the Power of the Oliver
Regarding travel trailers, the real difference becomes apparent when you venture into the unforgiving elements of the great outdoors. Unlike other RV trailers in its class, the Oliver is crafted to overcome common hang-ups and deliver an unparalleled camping experience in any season.

Join us as Phil, the knowledgeable Sales Associate at Oliver Travel Trailers, unveils the remarkable design and features that set this trailer apart from other manufacturers.

Start Your Adventure Today
Are you ready to create the perfect travel companion for your adventures?
Get Started
4 Season Travel Trailer Design & Engineering

Oliver Travel Trailers feature a double fiberglass shell design that protects against extreme temperatures and helps reduce energy consumption. All plumbing lines, water tanks, and several mechanical components are installed between the inner and outer shells.

The air gap and radiant barrier polyethylene bubble insulation between the inner and outer fiberglass shells help break down the conduction of energy, keeping the energy inside the camper more effective and allowing you to camp all year in an actual four-season travel trailer.

You will not find a comparable design that provides the level of protection the Oliver 4 Season Travel Trailer provides.

Efficient 4 Season
Camper Components

One of the components included in our standard package to help accommodate harsh cold weather is the ducted furnace that distributes heat evenly throughout the travel trailer and in the space between the inner and outer shells. Even in brutally cold winters, with your furnace running and plenty of propane, you will stay warm and not worry about pipes freezing or busting.

The Legacy Elite and Legacy Elite II come standard with two 20-lb propane tanks with an automatic switch-over regulator. There is also an option on Legacy Elite II campers to upgrade the propane capacity to two 30 LB tanks.

To beat the summer heat, the Oliver comes standard with an efficient roof-mounted Dometic air conditioner and the MaxxFan ventilation fan. We also offer the optional ultra-quiet Truma Aventa Air Conditioner for those wanting an A/C with less noise. When you are ready to escape the heat where you are adventuring, get inside and turn on the air conditioner to quickly cool down.

Our travel trailers are equipped with double-pane windows to help keep energy inside more efficient.